Anyone can cook
Kitchen Stories remains one of my favorite projects I've done so far. When the founders appoached me and my team, we had the odds against us. Famous chefs like Jamie Oliver had their own paid apps and free apps with an almost endless repertoire of users contibuted recipies seemed to own the marked. And of course we had a tight budget.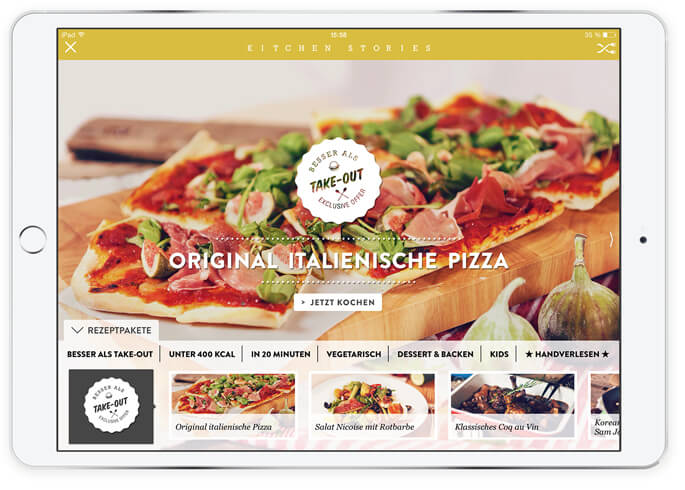 So we created an app we wanted to use. A product that just feels right the moment you get intouch with it. Therefore we shot every single photo and filmed every recipe ourself. All the shots turned out really beautiful without any retouching or dedicated food styling. It was one of the rare projects where we controlled every single aspect from the UI to the content.
A home made success story
Obviously we did that quiet well: right after the release Apple featured us as Editors Choice and made us App of the Year in 2014 and 2015. The app then was showcased on every iPad in every Apple Store worldwide, was later featured in Apples WWDC Keynote and eventually won an Apple Design Award.
3 Years later Kitchen Stories has now over 30 employees, is available in 12 languages and became with over 16 million downloads the best cooking app in the world. They even reaced this without any marketing budget at all. They just did what really matters: creating a great product – well designed, user centerd and with great content. It's that easy…